Web Counters
Website Visitors
Since
August 9, 2012

Visitors Today
Jun 24, 2021

SVFD Takes 4 Members Off Probation
By SVFD Webteam
September 4, 2020
On Friday September 4th 2020 a small ceremony was held to take 4 SVFD members off of probation. Due to the pandemic the usual process could not be completed but these members deserve recognition. Promoted to full active members were Firefighters Nick Latella (Badge #399) Firefighter/EMT Brian Lieberman (#400) Firefighter Rocco Latella (#401) and Firefighter Clint Loretta-Catucci Jr.(#402).
Firefighters R. Latella, Loretta-Catucci Jr., and Lieberman are all graduates of the SVFD Junior Corp program. Firefighter Nick Latella since coming off probation during the pandemic has become the Engineer of Engine 185. Firefighter/EMT Brian Lieberman will be leaving on Monday for basic training in the United States Army.
Congratulations to all of our new firefighters for earning your badges and helmet shields!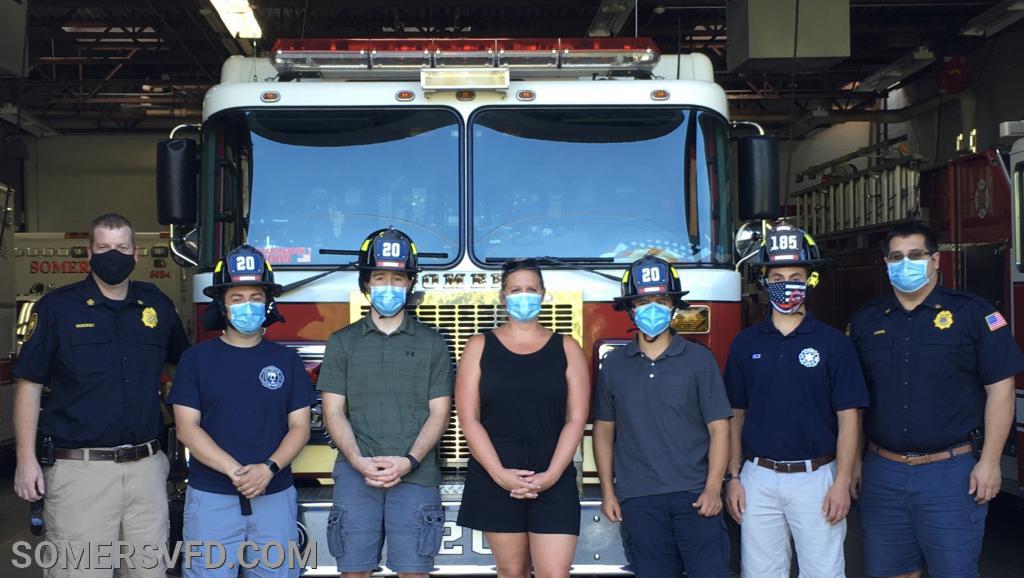 Pictured from L to R: Chief of Department Jon Mackey, Firefighter Loretta-Catucci Jr., Firefighter B. Lieberman, Firefighter/Junior Corp Advisor Shannon Mackey, Firefighter R. Latella, Engineer N. Latella, 2nd Assistant Chief Greg Lucia
2021 Incidents
Fire
EMS
JAN
35
201
FEB
41
179
MAR
65
160
APR
42
169
MAY
52
162
JUN
JUL
AUG
SEP
OCT
NOV
DEC
JAN
Total
235
871
2020 Incidents
Fire
EMS
JAN
44
167
FEB
51
148
MAR
40
159
APR
58
162
MAY
48
140
JUN
64
133
JUL
56
168
AUG
173
169
SEP
60
140
OCT
45
162
NOV
54
134
DEC
62
179
Total
755
1861
2019 Incidents
Month
Fire
EMS
Jan
47
172
Feb
48
150
Mar
48
177
Apr
43
173
May
41
183
Jun
49
158
Jul
64
153
Aug
43
152
Sep
42
175
Oct
50
145
Nov
53
136
Dec
48
221
Total
576
1995
2018 Incidents
Fire
EMS
Jan
58
152
Feb
47
153
Mar
177
178
Apr
38
143
May
71
174
Jun
59
172
Jul
62
159
Aug
68
177
Sep
39
178
Oct
52
160
Nov
46
172
Dec
49
169
Total
766
1987
2017 Incidents
Fire
EMS
Jan
44
152
Feb
40
140
Mar
39
138
Apr
50
151
May
49
144
Jun
53
119
Jul
62
131
Aug
50
129
Sep
49
158
Oct
57
137
Nov
58
159
Dec
47
178
Total
598
1736
2016 Incidents
Fire
EMS
Jan
53
118
Feb
64
126
Mar
30
146
Apr
45
120
May
50
112
Jun
54
142
Jul
49
132
Aug
60
137
Sep
37
160
Oct
55
161
Nov
47
131
Dec
38
154
Total
582
1639
2015 Incidents
Fire
EMS
Jan
39
136
Feb
52
149
Mar
50
160
Apr
40
100
May
59
145
Jun
45
116
Jul
57
166
Aug
39
140
Sep
34
151
Oct
44
140
Nov
30
125
Dec
53
160
Total
542
1688
2014 Incidents
Fire
EMS
Jan
40
124
Feb
32
121
Mar
40
110
Apr
39
118
May
46
155
Jun
28
147
Jul
54
146
Aug
44
136
Sep
47
139
Oct
48
135
Nov
56
108
Dec
45
143
Total
519
1582
Older Incidents
Fire
EMS
2013
472
1588
2012
628
1613
2011
708
1654
2010
525
1562
2009
468
1474
2008
493
1385
2007
519
1339
2006
478
1195
2005
569
1160
2004
533
979
2003
730
706
2002
959
397
Total
7082
15052